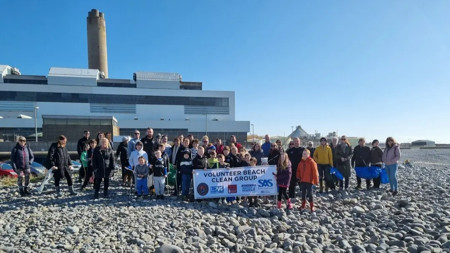 One Ocean, One Climate, One Future – Together
World Ocean Day is a celebration that propels action throughout the year to protect our planet. The purpose of this day is to inform the public of the impact of human actions on the ocean. It is an opportunity to unite the world's population on a project for the sustainable management of the world's oceans.
It is essential to recognise how our behaviour impacts the planet every day, and how our actions will have a domino effect on future generations to come. SAS' Trevor McGarrigle, based in Bridgend, has taken it upon himself to make his own impact in the world by creating a beach clean-up initiative in South Wales (visit Trevor's Facebook page).
As a fisherman, Trevor would continuously notice rubbish on his local beaches, and after beginning to watch David Attenborough on television, he became more interested in the preservation of our planet and how he can make a difference in his own way. Being at the beach regularly and seeing for himself the devastating impact on our natural world led to Trevor wanting to do more. He preceded to start his own beach clean-up initiative, which SAS supports by sponsoring him and providing any necessary equipment needed.
"Everything we do now is for our next generation. All that takes place today is only partly affecting us; future generations will feel it more, and we need to act for our kids. The rubbish you see on beaches is harmful to our planet – animals consume the rubbish and die from it, which causes a knock-on effect. This leads to less fish and animals which would be an end to life as we know it. I'm very grateful to SAS International for sponsoring me for four years since I started the beach clean group in February 2018. SAS have committed to sponsoring me till 2024, and I am determined to make even more of a difference through this initiative. Thank you to the 915 members who have joined my Facebook page to support this initiative."
– Trevor McGarrigle
Trevor's clean-ups take place at all the beaches between Barry Island and Ogmore Beach, and his groups focus on one beach each month to clean up. Trevor supplies a litter picker and reusable bag for each volunteer. He hosts competitions for kids who also want to get involved by using incentives such as prizes to encourage involvement and excitement, whilst still having a positive impact on the environment. The volunteers are split into two groups – one is in charge of collecting larger items such as milk bottles and cans, and the other group is responsible for smaller pieces of rubbish. These often include pieces of broken-down plastic that have been smashed into rocks and scattered into smaller parts.
The following are just a few reasons why the ocean is so vital to life on earth. Firstly, tiny plant-like organisms in the sea known as phytoplankton are responsible for at least 50% of the oxygen on Earth, helping us all to breathe by producing oxygen and consuming carbon dioxide. Secondly, the ocean helps regulate our climate by absorbing huge amounts of heat from the sun. Lastly, the ocean is an important source of food consumed globally, as well as being home to an abundance of living species.
Learn how you can help make a difference on World Ocean Day.