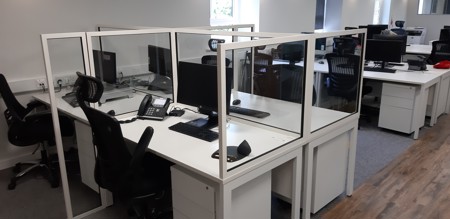 SAS LAUNCHES PERSONAL SPACE MANAGEMENT SOLUTIONS
The in-house design team at SAS international is producing a whole new range of personal space management solutions to help companies re-populate offices safely.

The first offer is a screening range. Easy to install on any desk configuration the screens are made of durable glass and aluminium which can be repeatedly cleaned without damage. As all the products are designed and manufactured in-house in the UK, any desk size or office layout can be accommodated with bespoke solutions.
"Home working is simply not a solution for everyone", observes Sales Director Phil Smith. What is needed immediately are interventions that can reduce the risk of viral transmission within workplaces.
"For some aspects of office design, this is a complete U-Turn. From open-plan, multi-user flexible spaces we now need compartments: personal spaces unique to individual workers, but without losing the benefits of collaborative working which are what bring people into offices in the first place."
SAS has remained in operation throughout the shutdown to continue supplying projects on site across the globe. Demonstrating its ability to react quickly to customer demand, the team has supplied solutions fast to various Nightingale Hospital developments as well as working on this new product range.
"We have chosen to manufacture these screens with an extended lifespan. Of course, we all hope that a solution to this virus, vaccine or effective treatment, appears soon, but surely one legacy will be a renewed awareness of virus transmission and the need to protect people at work." Concludes Smith.